Thanks Roger. As I said, it was a very quick test, both of the equipment and the built in editing software.
Yes, a very clumsy edit (best to avoid Hitchcockesque cameos) - there may be some gentle 'transitions' in the software but I have yet to find them - but I wanted to prove on film that I can fly and land the thing.
This is the set up I used, with an extra large bracket to accommodate the iPad (bigger screen, less reliance on specs
).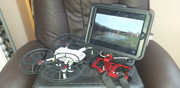 I'm pleased with the image quality now I have added a minute polarizing filter. There is no zoom on the camera, you have to fly it in and out to get the effect, although it does have a gimbal mount to stabilise the image and allow the camera to tilt up and down. Panning etc is all achieved via the flying controls.
I only use the screen to check what I am filming, flying is all line of sight - in fact the law actually requires the pilot to keep the drone in view at all times. In theory you're not allowed to fly it to the other side of a tree.
Hoping I can get some decent shots above the fields at a few steam railways this year. I'd love to fly it at F1 testing in Barcelona next week but that would definitely get me thrown out.