Great photos. We, in El Paso, Texas, are still in dire need of experienced workers. Please reconsider, and send them over, once their work is done. It is a credit to British models that they stay upon my track at all.
Hi Chops,
My workers may look good but they've spent about three months working on the same piece of track and it doesn't look any different! Perhaps I should move them around a bit. It may shake up their work ethic.
I've finished the actual station platform for Arkwright's Mill and got it on the layout. That encouraged me to push on with some more urban landscaping between the platform and the Mill, which is nearing that point when it can be photographed. There will still be trees and station signs to make and fencing to put in, but those are details that I can work on after my next photo session.
Looking South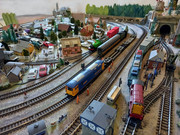 Looking West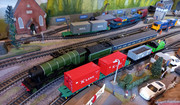 Shankly Gerrard Street
Flag Waver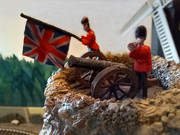 Quintessentially British. One rather hopes Alec Baldwin is not in charge of the changing of the guard ceremony. The denizens of Shankly might get shanked. Or maybe you should point it at the work crew; get them to step lively. Recently started watching "Sharp," so my understanding of the Napoleonic wars is expanding.
Lovely sets of photographs, IanAlan. Thanks for posting.

Glencairn
To the world you are someone. To someone you are the world
I Cannot Afford the Luxury of a Negative Thought.
Thank you Glencairn. It's always nice to get some positive feedback, especially from someone whose layout I admire such as yours.
More Fun at the Heritage Day
Of course, the heritage day is just a way of running some steam trains without having to change the scenic features such as taking contemporary cars and hi-vis clad workmen off the layout and putting telegraph poles onto it. It also fits well with the olde-worlde clothing and horse and carts at Arkwright's Mill although these are a much earlier era than any of my steam locomotives.
Note to myself: I must buy Stevenson's Rocket.
Water Wheel View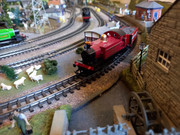 The Little Blue Locomotive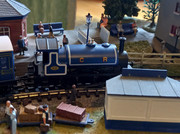 The Mother of All Heritage Days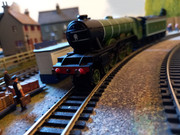 Bring on the Empty Horses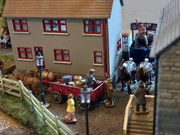 Fans of the late great David Niven will get my reference to the Empty Horses.
Most quintessential. Especially the beer part.
Users browsing this forum: No registered users and 9 guests