I am have started building a layout that I call "Oakley Mountain". It will have changes in elevation, and a track feature inspired by railway lines close to a place called Oakley.
I am modelling in n-gauge, and using Peco code55 with electrofrog point work. I will be modelling the LMS but it will be a fictional location.
So far I have got as far as building the benchwork, and am just starting the track laying.
Here are a few pictures and a video of my progress.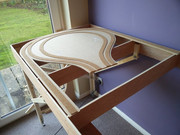 https://youtu.be/cEXgmKpd0VA