I probably overthought or overengineered the idea.
My suggestion around the washers and 'long'tube was to create a flanged tube with the tube fitting inside the hole in the washer. The washer would then act as a thrust bearing to spread the load and allow the tubes to move freely inside one another.
You occasionally see similar setups in older cars for some of the suspension links.
A very rough sketch:
Red is the threaded rod
Green - washers
Blue - long inner tube
Black - short outer tube
Yellow - each side of the wooden hinge plate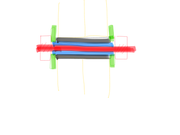 Over engineered but an elegant solution. (Possibly).