Since storing the this away 2 yrs ago it seems there has been a explosion, so its rebuild day.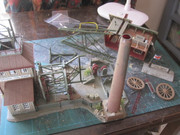 ---
Posts: 529
Joined: Fri Oct 05, 2018 2:53 pm
Location: Downham Market
Contact:
Ah, that's the Faller lit I built a couple of years ago and posted a video here:
https://www.youtube.com/watch?v=KrK0pgPF9kg
I finally finished my extension a few months ago and installed the mine on it though not done much since: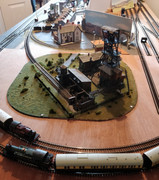 Most people are shocked when they find out how bad I am as an electrician
---
Yes Terry i remember you doing it, mine is back together now, mining can go ahead again.
---
That's taking realism too far!
Glencairn
To the world you are someone. To someone you are the world
I Cannot Afford the Luxury of a Negative Thought.
---
Users browsing this forum: No registered users and 1 guest