Posts: 1307
Joined: Fri Oct 05, 2018 12:57 pm
Contact:
Happy Christmas. (I don't have a Christmas scene so this will have to do).

Have a blessed new year.
Attachments

IMG_20170822_150459.jpg (219.9 KiB) Viewed 4676 times
Enjoying freelance modelling in 7mm narrow gauge
Feel free to ask questions relating to the Mountain Goats Waggon & Carriage Works thread.
Posts: 246
Joined: Sun Oct 07, 2018 11:18 pm
Location: Freistaat Bayern
Contact:
Many thanks for your kind wishes!

Artur
Ho, Bloody Ho !!!...…...Merry Christmas to all on the forum from the Hound Dog
Attachments

128.JPG (2.59 MiB) Viewed 4651 times
Merry Christmas all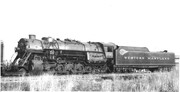 Happy Christmas to everyone on MRF.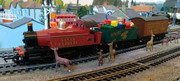 The reindeer are having a comfort break on their journey back to the North Pole.
PS Congratulations Yelrow on your ten-year residence permit. My lovely Polish wife got her British citizenship last year, so that the UK government doesn't throw her out. It's a great relief to have security.
Hi, Ian, thanks. Happy, you are also sorted. We can watch the ups ans downs of Brexit, safely now, from a distance, knowing that our powder is somewhat dryer.
Users browsing this forum: No registered users and 2 guests