Arboretum Valley is a number of interconnected railway stations and dioramas that hide tracks. It can and is usually run as a totally vanilla layout, but having a wicked sense of fun, strange and weird things can pop up, and do.
We have a large loft, and I bought my husband a Hornby transept one xmas, it languished for a year or two after a quick play, but when we extended and had a nice large loft he bought it out, and things went from there.Originally it was his baby, but he asked me to help with some scenic detail, and started to share his passion teaching me about the eras, the types of locos etc., teaching to stop calling them trains
We came a cross Skaledale 00 and as our layout was going to be big those resin buildings seemed a good quick fix for filling out the layout, we considered the likes of P4 but decided that for the size we were going for it would be mean making track forever, so compromised on Peco 75. The layout out is fully DCC.Some of the skaledale buildings in the early days had heir origins on the box, and we really like one of he stations, thinking it was generic, but it turned out that another modeller pointed out we had bought Goathland, and once we knew that we remodelled that area twice to get it to a reasonable facsimile, over the years I have come across other Goathland modellers, and holiday makers who help with ideas and photographs.
We also have other stations including Kalborough which is our largest station. Much of the set up reflects either the 1960s or later. The 1960s influence is also due to Goathland station, because I loved watching Heartbeat the TV series and once we new Goathland station we saw it used for filmgoing their, and became aware that the village is used for filming also, and found you could buy Aidensfield Arms and Scripps garage two buildings in the village. It has also been used for filing Harry Potter and occasionally the infamous Hogwarts Express runs there, sometime in the future I may make one with the correct engine, but so far it is just the Hornby commercial one.
Anyway to the pictures.I'll start with some of the better pictures first,photographin isa passion of mine and capturing the layout trying to make it look realistic is something i strive for,I use an iPad which allows me to see the picture and choose the focus, which gives me enormous opportunity to soft focus much of anything that screams model, helping with the illusion.I often see other layouts that look superb and which i could photograph them. The loft has several vellum windows which allows natural light and therefore natural shadows, a godsend when trying to trick the viewer.
GOATHLAND Station
9215 The station carpark and the weigh bridge.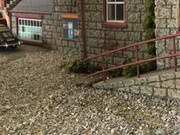 8442The coal drop, platforms and platform stairs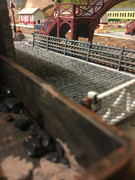 7656 The rear carpark, the bought resin buildings have had some light weathering, and a sign or advert or two added, but otherwise the look is all down to Hornby.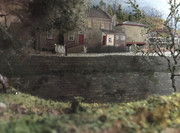 7527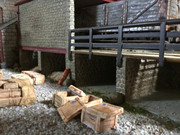 76413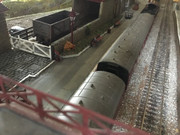 HEARTBEAT / Goathland village
8477 Greengrass, sheep wandering around the village is usual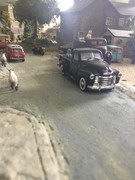 7646 St Marys church Goathland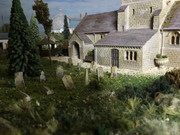 7533 St Marys church real moss taken off of concrete helps with the the fine detail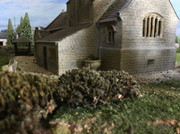 I hope this wets your appetites
I will show some of the other areas soon, and then show how I updated some of the railway and scenic items soon