SPUDs were designed for that sort of conversion, but apparently difficult to convert to DCC.
I just bought some of these from
www.brimal.co.uk
- excellent service - ordered yesterday and turned up in this mornings post.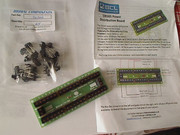 The junction boards were less than a fiver and the IR sensors less than 50p each.
You can use the junction boards either to connect your DCC track droppers to your power bus or to connect up to 18 accessory decoders to an accessory or track bus.
The IR sensors will be used for loco detection - one day.